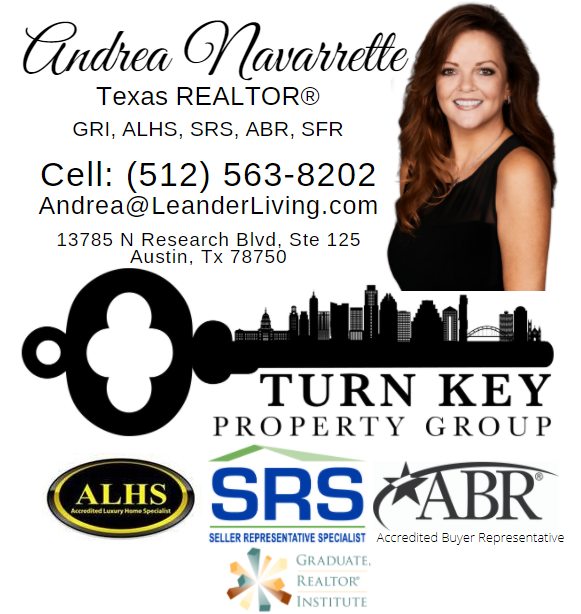 Know someone who needs an amazing Real Estate professional?
Let Andrea put her background and experience to work for YOU!
Andrea Navarrette, REALTOR®
Texas License: #528897
c: (512) 563-8202
e: Andrea@LeanderLiving.com
What's your Real Estate goal?
Ready to make that Real Estate Purchase? Are you looking for something in particular? Great schools? Lock and leave maybe? Land to roam? Downsizing or buying that dream home? Let's work together defining your vision so we can make your dreams a Reality.
Are you considering Selling? Need to know how much your home or real estate property is worth? Let us help!
Not ready to purchase? Are you looking to find a Rental or Lease property? Let's chat! We'll go over your budget, timeline, areas of interest, wants and needs!
Buying or selling your home can be the single the most important transaction and likely largest purchase you make in your life! Therefore it is important you work with a full-time agent that has the experience, professional expertise and integrity to make your real estate transaction as pleasurable and stress-free as possible. We're so glad you found us!
About Andrea:
Andrea has a passion and dedication to serving others in and around her Leander community. Andrea has been a Texas REALTOR® since 2004. Talk about experienced! She and her husband chose the beautiful Texas Hill Country back in 1999 as their home and the perfect place to raise their family. Along with over a decade of serving as a Leander City Councilmember, 2x Mayor Pro-Tem and many years working with Leander ISD, let Andrea help you with her area expertise, passion and patience for all your real estate needs!
Andrea is involved with the following organizations: The Texas Association of Realtors, Williamson County Board of Realtors, The National Association of Realtors, Austin MLS & LMS(Leasing), and Williamson County Children's Advocacy Center Board of Directors. Former CAPCOG – Capital Area Council of Governments Executive Officer, BCRUA – Brushy Creek Regional Utility Authority-President-Board of Directors, CAECD – Capital Area Emergency Communications District – Board of Directors, CAC – Central Texas Clean Air Coalition – Board of Directors, Graduate of the Leander Citizens Fire Academy, Bond Task Force Committee and member of the Leander Chamber of Commerce.
Andrea is passionate about studying trends in Real Estate in and around her home of Leander, Tx. She strongly believes "you are what you know," and keeps her tools sharp with many continuing education classes and seminars to be the best agent she can be for all of your Real Estate endeavors.
Our Brokerage:
Turn Key Property Group
Travis Turner License #648158
13785 N Research Blvd, Suite 125
Austin, Tx 78750

Next Steps…
Don't go it alone! Give us a call so that we can work on this together!
Remember: Team Work makes the Dream Work!

Contact us today:
c: (512) 563-8202
e: Andrea@LeanderLiving.com
Texas law requires all license holders to provide the Information About Brokerage Services form to prospective clients.